HUE Animation Studio
Kit completo di animazione stop-motion con videocamera per Windows
HUE Animation Studio contiene tutto ciò di cui avrai bisogno per creare video ad animazione stop motion.
Con questo kit completo potrai creare cartoni animati "Aardman style" (la casa produttrice di Galline in fuga, Gnomeo e Giulietta, Shaun – Vita da pecora,…) e divertirti con chiunque. Adatto a tutte le età, a partire dai 5 anni in su.
HUE Animation Studio è un software certificato Windows; contiene la premiata webcam Hue e la guida all'avvio rapido.
Carica i tuoi filmati su YouTube, spediscili ad amici e parenti, salvali sul tuo computer.
Consigliato per utilizzarlo nelle scuole del Regno Unito.
"È geniale…" – Il Sun; Miglior invenzione – Time magazine; Hue è stata la videocamera scelta per il Tate Movie Road Show.
Acquista Ora (HUE)
Acquista Ora (Amazon)
Contenuto della confezione
CD software di animazione
Licenza software per singolo utente (la chiave del prodotto è sul retro del libro)
HUE camera
Base della webcam
Cavo USB a mini-USB 1,8m
The HUE Book of Animation (solo inglese)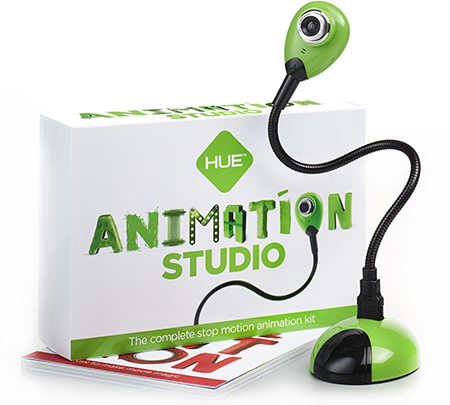 Informazioni su HUE Animation Studio
Il software completo di animazione è stato appositamente progettato per un facile impiego ed è adatto a tutte le età, a partire dai 5 anni in su.
I bambini di qualsiasi età potranno creare la loro animazione stop motion appena HUE Animation Studio è installato.
Nella confezione è compresa la premiata webcam HUE HD, videocamera "plug and play" e flessibile, con microfono incorporato. Il suo design innovativo e versatile offre illimitate opzioni di posizionamento, ideale per filmare il tuo cartone animato, offrendoti una qualità video eccellente. È poi possibile esportare il tuo cartone per condividerlo su YouTube o sul tuo sito preferito, o semplicemente condividerlo con gli amici. La webcam è disponibile in sei colori.
Caratteristiche
Riproduci il tuo filmato in qualsiasi momento
Registra effetti sonori o importa le tue registrazioni audio e la tua musica
Aggiungi testo, titoli di coda ed effetti speciali
Copia, duplica e cancella fotogrammi
Facile da installare e da usare
Microfono incorporato
Fuoco manuale
La videocamera è compatibile con i principali network di video chat
UVC compatibile (plug and play)
Software di animazione disponibile solo in lingua inglese.
Requisiti di sistema
Windows: Windows 11, 10, 8, 7, XP, Processore 1.4 GHz
Mac: OS X 10.5 – macOS 10.14. Il software di animazione non è compatibile con macOS 10.15+ (Catalina).
350MB di spazio libero su disco
512 MB RAM
Connessione USB 1.1
Supporto tecnico
Se avete problemi con la configurazione o l'uso della webcam HUE, usate il nostro modulo di contatto per assistenza.
HUE Animation Studio: Guida all'avvio rapido per l'utente
Se state utilizzando Windows, potreste aver bisogno di installare l'applicazione gratuita di Adobe, Acrobat Reader, per visualizzare il manuale (gli utenti Mac possono aprirlo con Preview).