Give every student a front row seat in D&T classes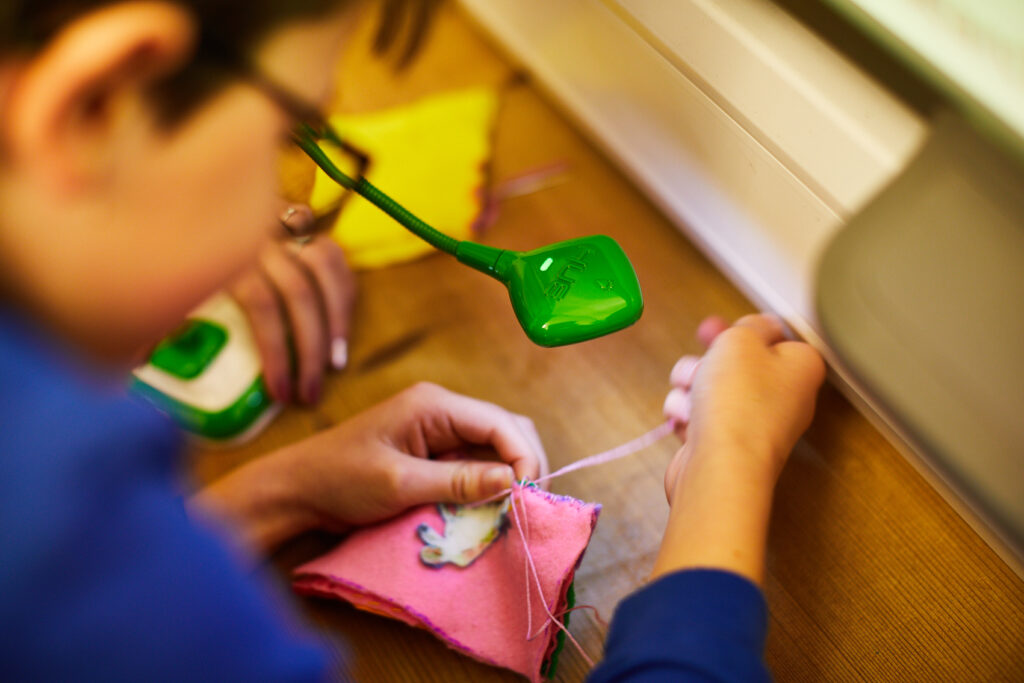 Guest post written by John Dabell.
Visualisers have proved their worth in Design & Technology lessons because they are particularly good at combining a visual feast of inspiring stimuli, keeping everyone focused, and making sure that no one misses out on the action. They are brilliant for modelling, recording content and brainstorming, and helping the teacher to pace the lesson whilst boosting pupil engagement.
The HUE HD Pro document camera is a practical resource that makes teaching, learning and assessment more visual and lends itself especially well to hands-on subjects such as D&T:
Demonstrating
The primary benefit of using a HUE HD Pro is its ability to show pupils objects that are too fragile to share, too difficult to access or too small to see. Being able to zoom in on the fundamental elements of a material, technique, or process means we can demonstrate the micro, but in macro.
For example, when looking at the new and exciting field of biomimetics research you could show pupils Velcro under your HUE to look at the hook and loop inspired by Burdock seeds. In Electronics, you could demonstrate a soldering technique to a class and focus on the wiring and the circuitry, whilst in Food Technology, you could record the correct mixing technique for cake-making.
Live Modelling
High-quality explanation and modelling helps students produce excellent work. Your HUE camera can help you model an activity, practical exploration or complicated calculation more accurately and succinctly so that everyone in the class is better equipped to engage with the task independently. Every pupil gets a front row seat, is more engaged and therefore less tempted to be distracted.
Recording/Blended Learning
The experience gained with distance learning during the Covid-19 pandemic has encouraged teachers to think outside of the classroom black box and many have turned to visualisers to help with recording lessons for home learning.
Recording lessons, investigations and processes means that live videos and experiments can be shared and replayed, saving both precious time and resources whilst affording pupils valuable opportunities to consolidate their learning.
In a recent HUE blog, D&T teacher and DATTA Australia President Monique Dalli explained how using her HUE HD Pro camera for remote teaching enabled her to continue teaching effectively during lockdowns.  
"I was able to include practical lessons such as drawing demonstrations in my online classes by switching from the front-facing camera to the HUE. Students were able to follow along with drawing activities and have a clear view of the page in front of me."

Monique Dalli
Sharing/Live Feedback
Your HUE camera can improve productivity and support peer and self-assessment by giving on the spot, live feedback. Sharing best practice is key as this gives pupils a gold standard to aim for. A document camera is perfect for demonstrating excellent work. Pupils are able to edit and amend their own work, saving valuable teaching time whilst reducing teacher marking workload and improving pupil productivity and comprehension.
Sparking Curiosity
Show your pupils an object related to the topic you are covering in order to kick-start a discussion without explaining what the object or topic is. For example, you might want to show a number of different objects that are linked to an inclusive design topic and pupils have to work out how they might be connected.
Improving Focus/Readiness
Visualisers help to develop better teaching techniques by encouraging problem-solving and by motivating pupils to produce their best work. For example, you can remind pupils that you will be putting their work under the visualiser which prompts pupils to try harder and to be presentation-ready.
Brainstorming/Supporting Confidence
Your HUE camera is a brilliant tool for brainstorming around a topic. Simply put a blank piece of paper underneath the camera and make notes as pupils come up with ideas. In D&T this could be new design ideas for everyday objects, or new fabrics made out of recycled materials.
You could create a mind map together as a springboard for a discussion on particular design problems. For example, you could pool ideas when exploring ways we can use technology to improve the quality of our lives to live smarter, less wasteful lives. There is a huge benefit to be gained from working together. Pupils learn a lot from each other as they exchange ideas and watch each other perform.
Wiki-How
Challenge your pupils to use the HUE HD Pro camera to create their own step-by-step 'how-to' instructions in the style of a Wiki-How to document your D&T topic, such as a cookery practical or electronics wiring challenge.
This is a great way to develop skills and encourage the right mindset for achieving high standards.
And finally…
The HUE HD Pro is light and highly portable as well as being quick to set up. So it is ideally suited to spontaneous uses, making it easier for teachers to be more creative and to really involve their pupils in the learning process. 
Used as a tool for interaction, observation, information, modelling, guided investigation, assessment and more, it increases pupil involvement in lessons promoting collaboration and improving the overall learning experience. 
---
John Dabell trained as a primary school teacher 25 years ago, starting his career in London and then teaching in a range of schools in the Midlands. In between teaching jobs, he has worked as an Ofsted inspector, national in-service provider, project manager, writer and editor. You can follow him on Twitter @John_Dabell.
---
Find out more, subscribe to our blog, download resources, contact us or follow us on social media.