Guest Post: The benefits of using HUE HD Pro document camera in online tutoring
Juliet Rolls is a private tutor and founder of Cambridge Academic Tuition.
She qualified as a teacher with a PGCE from the University of Cambridge and taught at Queen's College Preparatory School, London. She has 15 years of teaching experience with children from age 4 to 18 and now focusses on online tutoring for students all over the world. As a UK qualified teacher, she primarily teaches English, Mathematics, Science, Verbal Reasoning and Non-Verbal Reasoning. Many students are at International Schools or British Schools and seeking to gain entry to prestigious UK schools at either 7+, 11+ or 13+. Entrance examinations are highly competitive and places limited so the best preparation is essential for gaining entry to first choice schools.
As a parent herself to four young children she understands the pressures of trying to help your children succeed and fulfil their potential. Juliet also works with home-schooled children from all over the world to help them ensure that they are following a broad and balanced curriculum.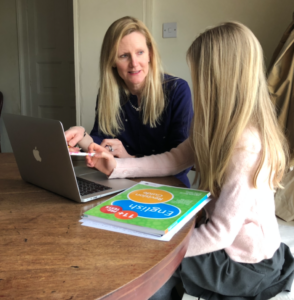 The amazing thing about online tuition is that children respond to it incredibly well. Parents may be sceptical at first and think that in person tuition is better but once they see the technology and interaction they are soon converted. They also appreciate not having to travel to the tutor or wait while the lesson is on. All that is needed by the student is a tablet or laptop. Many students use iPads as with these they can annotate the screen. Both student and teacher can share the same screen and annotate it at the same time.
Here, Juliet describes how online tutoring works and the benefits of using the HUE HD Pro:
"I usually use Zoom, a free online programme, which has excellent stability and call quality. Both student and teacher can see and hear each other through this live video call. It is possible to share Power Point presentations, websites, videos, educational games and other resources. There are some resources, however, that cannot be viewed online. For these I use the HUE HD Pro document camera. This is an amazing piece of technology that allows any resource that I have to be shared with the student wherever they are in the world. For example, if I want to test students on vocabulary words, I can use flashcards and show them the answers. Also, if there is a text book which does not have an electronic version I can simply switch from the laptop camera to the HUE HD Pro camera and the student can then read the book clearly. The HUE HD Pro has a manual focus adjustment so you can ensure that the picture is always clear.
I also like that fact that the camera can be plugged in either directly into the laptop USB port or attached to the stand which plugs in. There are also LED lights on the camera which can be switched on or off simply by tapping the camera. There is a built-in microphone also so that sound is clear and crisp even on the other side of the world. The picture quality is stunning with a resolution of 1280×720 (720p).
I cannot imagine now doing online teaching without the HUE HD Pro and would highly recommend it. The versatility and quality are outstanding and it is simple to set up and use.
As well as being able to reach students all over the world in places such as Hong Kong and China, I also teach students in the UK and Europe. Some of these children are home-schooled and online tuition allows a break for the parents along with support in areas of the curriculum that they are not confident with.
One of my students recently told me, 'I like coming to the lessons, you help me with revision and teach me things I didn't know. I love being able to have lessons from home without needing to travel anywhere'. As an experienced classroom teacher, I can also see how beneficial this would be for classroom use to demonstrate science projects, for example, to the whole class or even the whole school on an interactive whiteboard."
The HUE HD Pro also comes with the HUE Intuition software which allows you to take snapshots, record video, annotate video and flip the camera image.
For more information about Juliet's tutoring programme visit cambridgeacademictuition.co.uk