HUE acude a YoMo con sus coloridos productos para el aula (HUE at YOMO 2017)

HUE acude a YoMo con sus coloridos productos para el aula
HUE estará presente con nuestros llamativas soluciones educativas en la feria YoMo, un festival especialmente creado para inspirar a los jóvenes y ayudarles a conocer mejor las carreras profesionales de los sectores STEAM.
Avanzados y llamativos visualizadores, kits para crear animaciones o útiles soportes para tabletas son algunos de los productos con los que HUE irá al festival de la ciudad condal.
FEBRERO 2017.- HUE, fabricante británico de tecnología para el sector educativo, acude a YoMo, festival español del móvil, ciencia y tecnología para jóvenes.
En esta feria, que tendrá lugar en Barcelona entre los días 27 de febrero y 2 de marzo en la Feria de Montjuic, la conocida firma inglesa mostrará en Hall 1, en el stand E1 ubicado en la zona Educational Resources, sus llamativos productos, especialmente diseñados para el mundo educativo.
Entre los productos que va a mostrar destacan:
HUE HD Pro
Una avanzada e intuitiva herramienta nacida para dinamizar las presentaciones en las aulas. En concreto, este visualizador ha sido creado con el fin de facilitar la implicación de los alumnos en la educación en STEAM o en pedagogías activas, potenciando el trabajo colaborativo entre estudiantes.
Ligero, portátil y flexible, HUE HD Pro permite capturar imágenes tanto fijas como en movimiento para mostrarlas, enviarlas por correo electrónico y hasta subirlas a YouTube, así como hacer anotaciones en ellas y almacenarlas en diferentes formatos (JPG, BMP, PNG o GIF). También posibilita la captura de instantáneas individuales o múltiples (Image Capture) par asacar fotos una tras otra y así mostrar los cambios en un objeto durante un periodo de tiempo determinado. A esto se suma la opción de utilizarlo como microscopio, ya que, gracias al anillo manual de enfoque que integra en su cabezal, es posible acercar el objeto enfocado hasta 10x aumentos para, después, proyectar las imágenes capturadas en una pantalla grande y que así los estudiantes puedan verlo cómodamente.
Y para sacarle el máximo partido, se acompaña del software de gestión Intuition, con el que grabar vídeo y sonido, tomar fotografías del trabajo de los alumnos, compartir textos, escanear documentos A4 y proyectar imágenes y vídeos en una pizarra. Se puede, además, subir los vídeos a Youtube.
Además, cuenta con micrófono, iluminación y un cuerpo flexible que permite posicionar la cámara en cualquier ángulo. Al mismo tiempo, puede desconectarse de la base y usarse conectándola directamente a la ranura USB del ordenador.
Por último, es compatible con la plataforma Windows, Mac OS X y está disponible en cuatro tonalidades: rojo, verde, azul y negro.
PVP HUE HD Pro: 64,74 euros (IVA incluido)
Hue Animation Studio, el kit perfecto para principiantes
Este pack ofrece todas las herramientas necesarias para crear videos de animación en stop motion. Utilizando la plastilina o las piezas de LEGO™, los más jóvenes de la casa pueden crear animaciones completas, en las que, además, pueden añadir sonido. Así, es posible grabar la voz propia o importar efectos de sonido o música. Todo con el objetivo de que desarrollen su imaginación. Es la herramienta perfecta para las clases extraescolares. En el aula o en el Maker Space, HUE Animation Studio ofrece innumerables posibilidades dentro de la educación STEAM.
En concreto, es posible copiar, editar, mover y hasta borrar frames de la animación. A esto se suma la realización de Onion skinning o, lo que es lo mismo, ver distintas escenas de una sola vez por capas, meter Chroma Key, hacer Timelapse y subir los videos terminados a Creatubbles.
Así, el kit se compone de una cámara, un completo software y un libro a todo color de 60 páginas con instrucciones paso a paso para la creación de 20 vídeos stop motion y geniales ideas para realizar mucho otros más. El software está disponible en CD o también puede descargarse, e incluye ejemplos de los vídeos creados en el libro.
Por su parte, la cámara, de diseño innovador y versátil, ofrece, gracias a su cuerpo flexible, opciones ilimitadas de posicionamiento para capturar la animación.
Por último, Hue Animation Studio está preparado para usarse tanto con la plataforma Windows como con MAC OS, además de una versión adaptada para iPad (iCreate). Se comercializa en tres colores distintos: rojo, azul y verde.
PVP HUE Animation Studio: 59,95 euros (IVA incluido)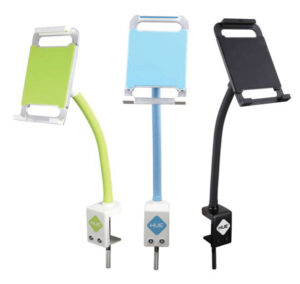 El complemento perfecto para la tableta
El soporte flexible de HUE ha sido especialmente creado para facilitar al máximo el uso de tabletas en clase o en el hogar. Así, es perfecto para aquellos que quieren usar la tableta y compartir los trabajos con los estudiantes, hacer una demostración o llevar a cabo animación en Stop-motion. Del mismo modo, es ideal para usarlo en la cocina y obtener un acceso fácil y rápido a las recetas.
Pensado para poder rotar la tableta 360 grados en cualquier dirección, ya sea en vertical o en horizontal, consta de cuello flexible que le permite adquirir múltiples posiciones. Esto se complementa con una bandeja para la tableta que se ajusta a dispositivos de entre 7 y 12,5 pulgadas, y dispone de una bola de articulación para moverse. A los componentes anteriores se suma una abrazadera, también ajustable, que permite su ubicación en una mesa, tabique, cama o, incluso, en una silla.
PVP HUE Soporte Flexible de Tableta: 47,94 euros (IVA incluido)
Todos los productos de la firma pueden adquirirse en su tienda www.huehd.com/shop o en www.amazon.es
Sobre HUE
Fundada en 1994, HUE desarrolla y diseña tecnología creativa y colorida para el sector de la enseñanza y el aprendizaje. La firma lanzó su primer visualizador y cámara de documentos en 2010, llegando a ser muy popular en las escuelas de todo el mundo por su práctica funcionalidad y portabilidad. En abril de 2014, HUE adquirió iCREATE to EDUCATE, una compañía especializada en el desarrollo de soluciones de software educativas para Primaria, con el fin de ofrecer una solución completa. Su programa de animación para crear videos en Stop Motion, SAM Animation (que ahora recibe el nombre de HUE Animation), cuenta, en la actualidad, con más de 100.000 licencias repartidas por todo el mundo. HUE Animation Studio, desarrollado ya por HUE, es un completo kit para crear animaciones con Stop Motion que permite sacar el máximo partido al visualizador HUE HD.
---
HUE acude a YoMo con sus coloridos productos para el aula
HUE will be exhibiting at YoMO Barcelona in Spain, the Mobile Youth Festival of Science and Technology, from 27th February to 2nd March 2017.
YoMO is a festival created to inspire young people and to help them to learn about the profesional careers that exist within each of the STEAM sectors. Teachers will be accompanying up to 20,000 10-16 year olds and finding out how HUE products help bring these STEAM subjects to life in the classroom.