Competition: MAKE it Your Lucky Day!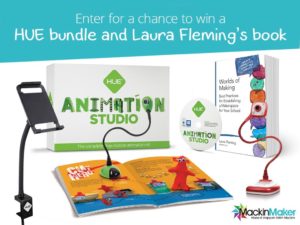 HUE has super good news for you!  We are teaming up with the wonderful Laura Fleming of Worlds of Learning and the marvelous team at MackinMaker to bring you a magical bundle of 'making' for your maker space.  During the month of April 2017, you have a chance to win a HUE Animation Studio AND a HUE HD Pro Document Camera AND a HUE Flexible Tablet Stand AND Laura Fleming's book Worlds of Making: Best Practices for Establishing a Makerspace for Your School.  That's a lot of ANDs!
If you're looking for 'how to's on starting a maker space or looking to improve an existing one, Laura's expertise combined with HUE's creative products will be invaluable to you.  And all other essentials for your maker space can be found at MackinMaker.  We've got you convered!
Enter here to win, and good luck!