Teaching Maths using HUE cameras with Equatio by TextHelp
Guest post written by Sammy White. Sammy is an experienced maths teacher across secondary, alternative provisions and adult education. Sammy was named in the EdTech 50 in 2021 and holds ACMALT from the UK Association of Learning Technology. Sammy is also a Teaching and Learning Specialist at Texthelp.
As maths teachers, we know that sometimes pen and paper can be the best tools for exploring and explaining concepts. How do we combine our love for live modelling with pen and paper and meet the requirement of accessibility needs? How do we even begin to bring digital tools into our pen and paper based modelling?
Sometimes, digitising our workflow seems more challenging than the potential gains. Equatio by Texthelp makes maths digital. By digitising the maths, Equatio reads those original handwritten notes aloud and more. With handwriting recognition and speech input, as well as audio description for Desmos drawn graphs, Equatio puts accessibility tools in the hands of students.
Just like the simplicity of getting started with your HUE HD Pro camera, Equatio is easily installed as a Google Chrome extension or Windows app. Once installed, the toolbar offers multiple ways for you and your students to input and express ideas with maths. Here are just a few ways how Equatio and HUE can work together in your classroom:
---
Make paper notes accessible by digitising them
Located in the Equatio toolbar, Equatio mobile can take a photograph of your handwritten notes and transform them into typed, accessible maths which can be inserted into anywhere that you are working: a Word or Google Doc, a presentation, or Equatio's own whiteboard, Mathspace. Equatio mobile will take your handwritten maths and digitise them.
Using Equatio mobile you can add an image you have already taken with your HUE HD Pro camera and with a few clicks, Equatio will digitise your handwritten maths and insert it into your documents.
Don't want your maths digitised but still need it to be accessible? Students can use the screenshot reader in the Equatio toolbar to read aloud your photographed handwritten notes too.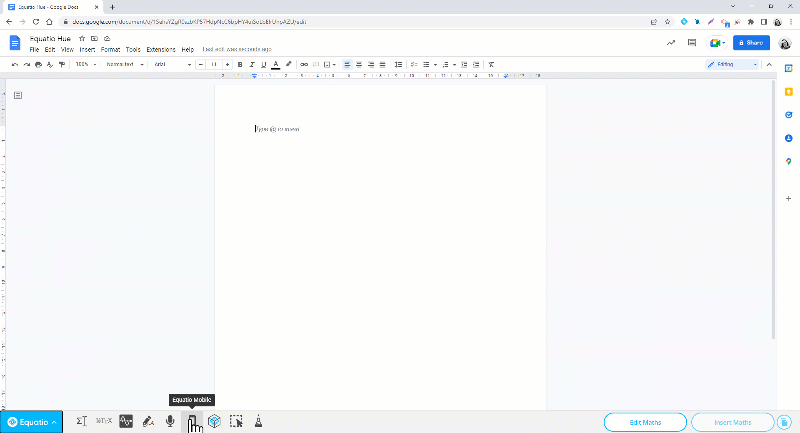 ---
Capture real life maths and share with students
Whether it's the net of a shape unfolded or the circular face of your desktop mug, you can insert an image into your Equatio Mathspace and annotate it with ease. You can then ask your students to perform calculations using the inserted image with Equatio.
Just like how we, as teachers, sometimes help students to find the right word to complete a sentence, Equatio's inbuilt predictions feature supports students to find the right formula to tackle a problem.
---
Live (and beyond!) modelling via your HUE camera and Equatio
Equatio mobile is not just for working with previously captured images, it can be used via your browser which means that you can live stream what your HUE camera is seeing to your class.
Begin modelling using your camera, and your browser tab will display your notes live. When done, with a few clicks, Equatio can type up your live-modelled maths to give students access to digital, accessible maths to continue their learning outside the classroom.
Equatio not only supports students with accessing maths but helps create opportunities for teachers and students to really see and explore maths together.
Equatio by Texthelp is used by over 10 million people globally and recently won the award Secondary – Digital Learning Product at BETT 2022.
Follow Sammy on @WhatTheTrigMath and follow TextHelp on Twitter, Instagram and Facebook to learn more about their fantastic range of applications.
---
Find out more, subscribe to our blog, download resources, contact us or follow us on social media.