Tips & tricks for making your first stop motion movie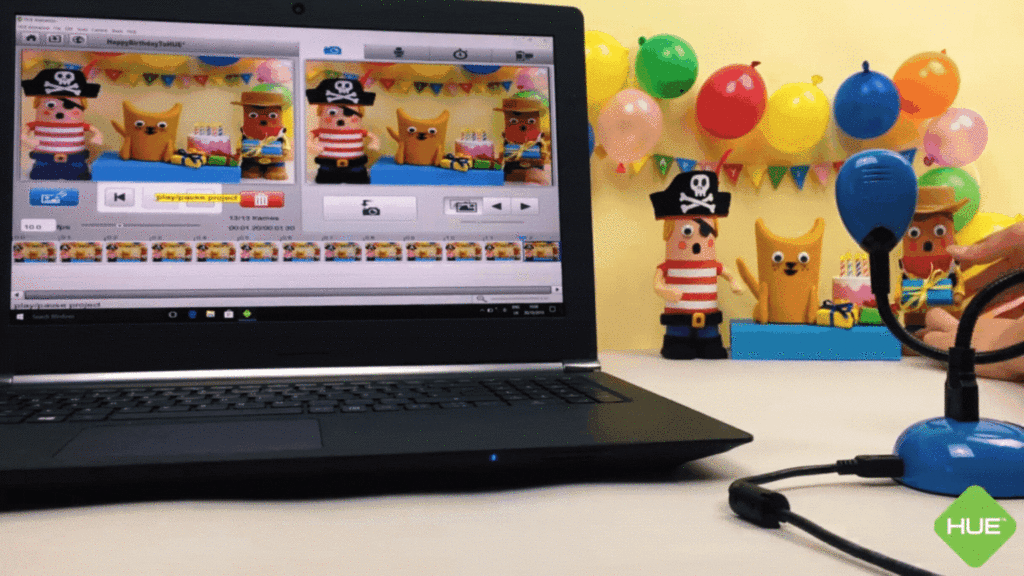 Stop motion animation is a fun, educational activity and a great way to get kids working on a project that will keep them occupied for hours, or even days!
Children as young as five years old can grasp the concept of stop motion quickly and progress from very simple to more complex animations as they grow their skills over time.
If you haven't made an animation before and don't know how to get started, this article will help guide you through the process from script to screen.
Stop motion animation is a filmmaking technique where physical objects are repeatedly moved and photographed, which creates the illusion of movement when the image sequence is played back quickly.
What you'll need
Camera
Computer
Animation software
Lights
Something to animate
Props, scenery and backgrounds (optional)
HUE Animation Studio includes a flexible HUE HD camera, easy-to-use software, a ready-made stage and digital resources (such as backgrounds and sound effects), making it a great kit for young animators.
To illuminate your animation it is a good idea to use artificial lights because natural daylight can slowly change over time and fluctuate on cloudy days. 'Continuous' LED lights, such as ring lights, are a really good option as they should not cause any light fluctuations.
The idea
Although you might be tempted to jump straight in and start animating when animation inspiration strikes, you might find it helpful to sketch down your idea in the form of a storyboard first.
Storyboards help you plan out your animation visually, scene by scene. They give you an opportunity to decide where to put your characters and props and how to film them. Storyboards are especially important if you want to animate a longer film with multiple characters, scenes and camera angles.
Remember, storyboards don't need to be great works of art, they are simply a tool to help keep your animation project organised.
Need some animation inspiration? Then check out the HUE Book of Animation playlist on YouTube for some fun and easy ideas.
Stop motion styles and materials
Pretty much anything can be animated using stop motion – as long as you can move and photograph it – but there are some common materials and styles which are frequently used:
'Found object' and toy animation
Claymation
LEGO® animation (brickfilms)
Cut-out animation
Sand animation
Puppet animation
Pixilation (animating people)
Object animation (using a toy or something found around the house) is an easy and accessible way to try stop motion for the first time. It is perfect for beginner animators and younger kids to quickly learn how to use animation software without needing to spend any time creating models, props or scenery.
For more adventurous projects, claymation, cut-out and puppet animation offer endless creative possibilities for children to practice their artistic skills. Children can design characters, paint backgrounds, write scripts and build fantastical miniature worlds.
One of the best things about stop motion animation is how you can start creating puppets and sets with readily available arts and craft materials or items salvaged from the recycling bin.
Useful materials for the stop motion animator's toolkit
Sticky tack
Sticky tape
Modelling clay
Paper and cardboard
Split pins (sometimes called butterfly pins)
Scissors
Pencils, pens and paints
Pipe cleaners
Aluminium wire
Fabric, felt, wool and string
Recycled packaging (cereal boxes, plastic bottles)
Not feeling super creative? Then check out our ready-made (and free) backgrounds and resources on HUE's Teachers Pay Teachers store to help bring your movies alive.
Time to get animated!
When you open HUE Animation, you will see the video stream from your camera in the panel on the right side of the window. This is the 'Live' panel.
Try animating at a low frame rate to begin with. Ten or twelve frames per second (fps) will work just fine and, as you build confidence, you can increase the fps to create smoother animations.
If you are animating at 10 fps, and you want a scene to last two seconds, you would need to capture 20 pictures.
Position your character or object in front of the camera, then focus the camera using the manual focusing ring around the lens.
To take a picture, either click on the capture button or press the spacebar on your keyboard. The image will now appear on the left side of the screen, and in the timeline below.
Move your character slightly and take another picture. Keep doing this until you have 20-30 pictures in the timeline.
You can play back the pictures you have taken using the Play button.
If you are using Stop Motion Studio software, visit our Stop Motion Studio tutorials playlist on YouTube to find out how to: make your first movie, use the 'Chroma Key' (Green Screen) feature, capture a time-lapse and more.
Tips and Tricks
Make sure you have a clear idea of what you are going to do and what you need before you start animating. It's a good idea to jot down a simple storyboard before you begin.
Check your lighting and contrast early – before you invest too much time into the animation. Shoot a couple of frames then watch them, to see if anything needs to be adjusted.
Make sure your props are large enough to be seen and recognized easily when captured.
Use small movements to create a smooth animation flow. It is easier to eliminate extra frames than it is to insert additional ones later.
Watch your animation often and adjust as necessary. Note if any parts seem to move too slowly or if others seem to move too quickly.
Consider taking multiple captures of each frame in case you accidentally delete one. Again, it is easier to eliminate extra frames than it is to insert additional ones later.
New frames are always added to the end of the animation by default. You can change this in the Settings if you would prefer to choose where new frames are inserted.
If you need a little extra help using HUE Animation software, check out our tutorials on YouTube or ask us a question in the comments section below.
---
Find out more, subscribe to our blog, download resources, contact us or follow us on social media.