Making the most of my HUE HD Pro, by Vivienne Gittoes
We love to feature fantastic teachers all around the world using HUE cameras to improve their teaching. If you would like to feature as one of our Teachers In Focus, please contact our team!
Hi everyone, my name is Vivienne Gittoes. I am a primary school teacher and introduced the HUE HD Pro into my teaching toolkit in February 2021 and have not looked back!
I have been teaching in North Solihull, in the United Kingdom for twenty years. I lead Year 1, Religious Education, and am part of the Mathematics team. Year 1 is my passion and I have actively used the HUE HD Pro visualiser to enhance teaching and learning, particularly to support early reading and mathematics in the classroom.
I had seen various teachers' setups for remote learning on Twitter and picked up on the use of visualisers. After lots of research I decided to invest in a HUE HD Pro camera. I was struck by its good looks, versatility, price point and supporting webpage. It was clear that it was widely used and supported by the teaching profession. I also use HUE Intuition and HUE Animation Studio software. Since having my visualiser, I have not stopped showing off its capabilities and talking about it with colleagues at work. It turned out that the school had invested in a set of HUE visualisers, so I have supported, encouraged, and modelled its use in school.
HUE HD Pro in the classroom
Prior to the pandemic, my classroom setup enabled me to do live modelling and teaching activities on our large, carpeted area. Then came the rows of front facing desks, which seemed very formal and restrictive. I would normally switch between using the interactive whiteboard, class carpet work, pupil activities at tables and continuous provision. The interaction and movement were integral to our daily routines and lesson structure. A year on, I have completely changed how I teach for the better, overcome the preconceived challenges and the visualiser has played a huge part in this.
The HUE HD Pro and my desk combined are far superior to my previous carpet sessions, whether it be for live modelling, further teaching input during pupil activities, addressing misconceptions or reviewing learning. For the most part, I have exercise books or sheets just like the children, enabling me to demonstrate exactly what is expected. Not only does this save time preparing interactive whiteboard materials but it is also more powerful for children to see me writing and recording directly on paper, whether it be the process or the product. It is also easy to reflect on and make connections to prior learning just by sharing real work on screen.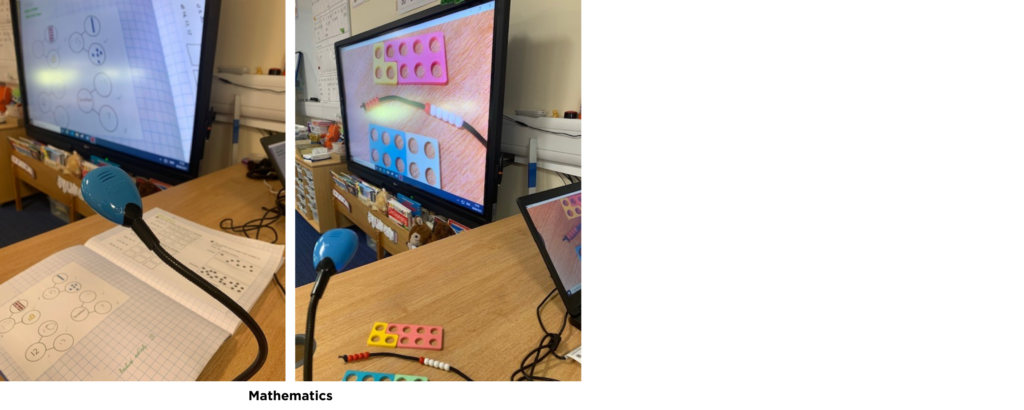 The HUE visualiser is an integral part of every Mathematics lesson, whether modelling with manipulatives or exemplifying and reviewing learning. It has also enabled me to try out silent modelling.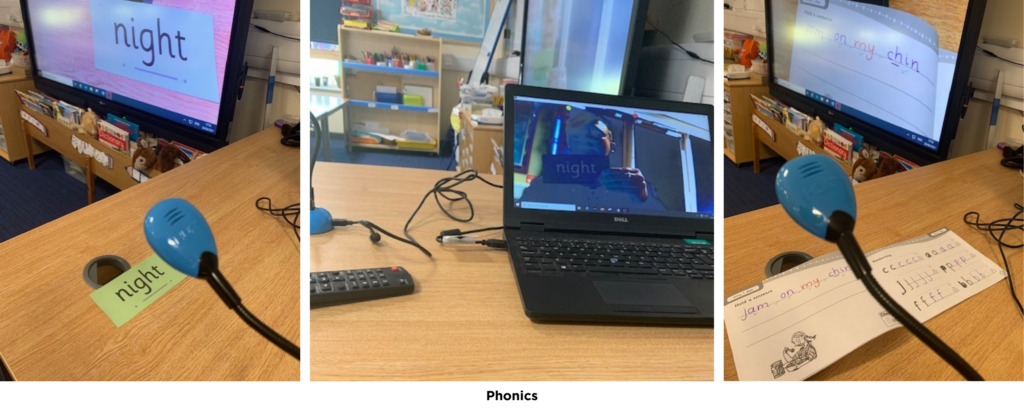 In Phonics, I use the visualiser to model reading and writing. When the children are decoding words, I can turn the camera on me and flip through the cards as I normally would, the difference being all children have good visibility, wherever they are in the room. Again, what I am doing always mirrors exactly what is expected of the children. The children can mark and self-assess their work using my model.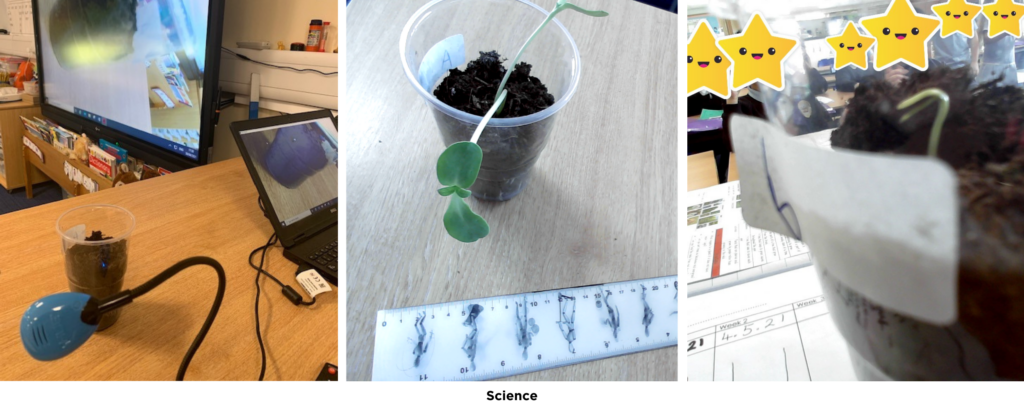 I make use of the visualiser across all other subject areas. The children love that I have an exercise book for each subject just like them. Sharing my book makes it easier for the children to access their knowledge organisers, work and take part in ongoing retrieval activities. When learning about plants, it was great to be able to observe the growth of our sunflowers. Next time, I would like to try some time-lapse photography.
Of course, it is great for story time too and comes in handy for the children to be seen on screen during whole school virtual assemblies. When we only had key worker and vulnerable children in school, it also enabled us to connect the children in school to those at home via Microsoft Teams. This was powerful and meaningful.
HUE HD Pro for remote learning and working
For the most part I have been teaching in school, but I have taught some live lessons from home. I always prefer using HUE HD Pro over my built-in webcam. It is versatile, so I can move between a seated or standing position and spotlight the camera on whatever I am modelling or sharing with my class. It feels far more interactive and akin to being in the classroom.
The HUE HD Pro has also come in handy for preparing resources of online learning. For example, using the HUE Intuition software to scan books so that I can post them on our remote learning platforms, for families to access from home. Of course, you can make pre-recorded content too.
The HUE HD Pro has also proved invaluable in other aspects of my role, whether it be parent meetings, Local Authority moderation of pupil work or meeting with my Year 1 team. Again, the flexibility of being able to spotlight whatever document or work you want to show is extremely useful.
HUE HD Pro outside of the classroom
I enjoy making use of the HUE HD Pro camera for work but have also had fun using it in my free time to make stop motion animation films using the camera in conjunction with the HUE Animation software.
The HUE HD Pro has been everything I wanted it to be and more and the support, encouragement, and engagement from the team at HUE has been second to none.
Written by Vivienne A. Gittoes (Twitter: @Vivi_teach)
---
Find out more, subscribe to our blog, download resources, contact us or follow us on social media.