Rosa Liarte reviews the HUE flexible tablet stand
Posted on

October 20, 2016

in Español
Rosa Liarte is a History and Geography teacher from Andalucia and she just loves using technology in her classroom. She is well known in Spain for her innovative approach to education and regularly holds practical workshops and video tutorials on, for example, 'How to innovate your classroom', 'Mobile learning with Apps', 'ABP and Flipped Classroom' and 'Using Tablets in Education'. She is an Apple Distinguished Educator, has had many articles and interviews published and has also won awards for her blog.
Rosa is holding a workshop at #SIMO (19-21 October) in Madrid where she will be talking about the different accessories she uses on a daily basis at school (Thursday 17.00-19.00). Alongside this we'll be holding a competition to win a HUE product so come along and meet us!
"A few weeks ago the people at HUE contacted me to tell me about their products for the education market and they sent me a package so that I could trial their products and write about them in my blog if I wanted to. I'm not here to sell you products, and of course I don't receive anything in return but I like to show you things that really I had no knowledge of before. Much to my great surprise I found that I really love it and I think you should know about it too because it has many uses in our work."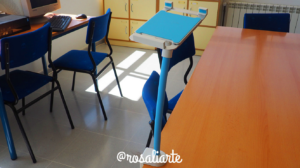 To read the full article with many pictures showing the HUE Tablet Stand in great detail please click here. For now, here is a little summary of her points in English:
The HUE Flexible Tablet Stand is suitable for any tablet and has a foot which grips onto to any table.
It's covered in a rubberised material which protects the tablet from getting scratched …and it also has grip on the underside which holds the tablet firm.
It's super easy to lock and unlock by simply pressing on the grip with your thumb.
The foot clamp is also covered in the same rubberised material and you can fix it exactly where you want.
Perfect for Stop Motion Animation.
The foot fixes onto the edge of any table and has a key to open and close it.
To anchor it in position, it's a simple question of clipping it back on itself and turning the key.
"I think I'm going to use for recording my video tutorials, for taking to school to record my pupils' work but also at home as I often work with both a computer and an iPad next to each other whilst preparing my classes".
"I think I'm going to find it really, really useful!"