Using a document camera in speech-language therapy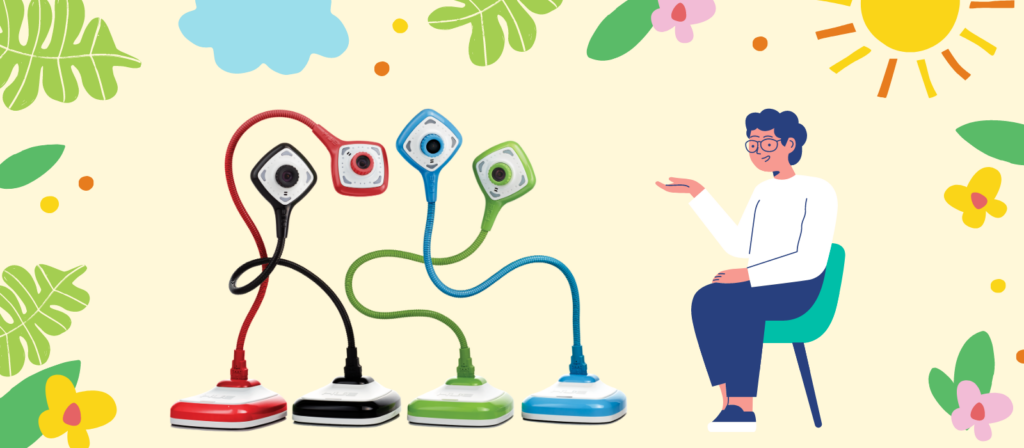 Tele-therapy, also known as online or virtual therapy, can be a convenient form of distance counselling. One of the methods of remote therapy is video conferencing and using a document camera adds extra benefits to this type of virtual support.
Kayla, a Speech-Language Pathologist, tested and reviewed the HUE HD Pro document camera in her teletherapy practice. Below is an overview with her practical tips. For the full review as well as more articles on pediatric and school-based SLPs, please visit her blog at Kayla SLP.
As an overview, the HUE HD Pro classroom camera is a flexible, portable document camera that every virtual SLP can benefit from. It's so compact and lightweight that it can easily be tucked into a backpack or purse to take with you if working between locations, or if you need to record something away from your school. It plugs straight into the USB port on your computer and has a quick install process for your PC, Mac, or Chromebook.
The HUE HD Pro Camera also comes with a stand, so if you need to move it away from your computer, you can plug it into the stand and use it that way!

The HUE HD Pro Camera also has a manual focus on the front of the camera so you can clearly see the details of whatever you're presenting. The LED lights (that can be turned on or off) illuminate your face or document, even in conditions without great lighting.
1. USE IT AS A WEBCAM
The HUE HD Pro Camera produces one of the clearest pictures I have ever seen on a document camera. As a matter of fact, it's even clearer than many webcams that I've used! It helps that it has LED lights and a manual focus on the front of the camera, so between the two, you can make your face crystal clear on cam! Did I mention it also has a built in microphone?! This is perfect for live tele-therapy sessions, or if you are recording tutorials to upload for YouTube or Loom.
2. USE IT TO READ BOOKS
The flexible neck allows the camera to position directly over a book for shared reading. You can illuminate the pages and then focus on pictures as needed. It's especially nice for hidden-picture type books (think "Where's Waldo?"), which I love to use for articulation and language therapy! Your students will easily be able to participate due to the sharp focus the camera provides.
3. USE WITH PAPER MATERIALS
You can easily use this to turn plain paper activities (such as worksheets) into group practice sheets! If you don't have time to turn something into a digital activity, don't worry… you don't have to! Simply bend the flexible neck over the page you want to show on screen. Working on sequencing and comprehension? What about describing? Need to display articulation cue cards? Now you can! Not everything you use in tele-therapy has to be digitized! You've got paper materials– use them! One more thing- if your activity is showing up sideways or upside down on screen, you can fix it with a simple click of a button in the HUE Intuition software!
4. USE IT WITH MANIPULATIVES
Sometimes you just need to look at something fun! Roll the dice (getting to know each other), spin spinners (to work on articulation), build with blocks (colors & counting), dress a Barbie (labelling), feed a doll (requesting), do a puzzle (prepositions), make the Old Lady Swallow a Frog (sequencing), or race two cars (smooth vs bumpy speech). If you can dream it, you can do it! I know you have a room full of awesome manipulatives that you use year after year. Why not make them part of your activity? The HUE lets you focus on the manipulatives on the desk, so you aren't stuck trying to hold dice by your face and roll them at the same time!
5. USE IT AS A WHITEBOARD
Add some interaction to your documents! Under the Document Camera feature on the Intuition software, you can add text, draw, circle items, and more! Sometimes, it's simple features such as this that make a lesson more engaging. This is especially great if you are reading books– you can circle items in the book without actually having to mark on the pages!
---
Find out more, subscribe to our blog, download resources, contact us or follow us on social media.