Guest Post: How the HUE HD Pro camera is transforming online tutoring
Elaine Lingard, a private tutor and owner of the Emerald Education Centre in Ireland, talks about how the HUE HD Pro camera has changed the way she tutors online.
Private tuition has become increasingly popular in recent years. It is a growing industry throughout the world, and I personally work with children from different time zones such as the USA and Hong Kong. When we think of private tuition, many of us will conjure up an image of a tutor and student, sitting at the kitchen table with books and various resources. However, with the use of technology, this picture is changing.
Online tuition is becoming increasingly popular. It saves time – no more rushing to pick children up from school to rush back for lessons, or drop them off at the tuition centre or tutor's house. It saves fuel, as we don't have to drive. The virtual classroom is right in front of us, wherever that happens to be (I have tutored children online while they are visiting family or on holiday!)
But what about working with that 'hands-on' approach? Some parents shy away from online tutoring, thinking it might be 'inferior' or 'lacking that personal touch'. This is certainly not the case. I work with children from many places all over the world, right here from my home or office in Ireland. I do this using video conference tools, online whiteboards, great online resources and amazing tools such as the HUE HD Pro camera.
This clever little camera plugs into a USB port on my laptop and opens a whole new world of teaching techniques to add to my repertoire. I can use physical resources, such as counting bears or cubes, or place value blocks to demonstrate to my students. I can use games that previously would have only been possible to use if the student was sitting beside me. It is amazing!
One student I work with is a little boy named Ian, who lives in the USA. Each week we have a maths session together. We have very practical lessons. When learning about place value, we both had bundles of popsicle sticks to group. I used my HUE HD Pro camera to demonstrate at my end, while he copied the method of grouping at his end.
When working on new concepts, I can easily physically demonstrate with resources on my desk, whether it is a game, a counting or sorting board, with cubes or with shapes. Recently, we have been working on learning multiplication facts. To keep our activities interesting, I like to play games. Sometimes these are online, but I also like to use physical games to aid concentration and keep motivation high. This is where the HUE HD Pro camera really helps.


I place the game under my camera. The image I see on my screen is reversed (as on the left here). The image the student sees is the correct way round (as pictured on the right). These photographs are screenshots from a recent lesson where Ian was working hard on recalling multiplication facts in a 'three-in-a-row' game. Look at the concentration on his face! Children can easily become involved at the other end of the screen by rolling their own dice too.
On the other side of the world in Hong Kong, another one of my students uses the HUE HD Pro camera. I work weekly with Curtis on developing creative writing skills and techniques. When we initially discussed how our online lessons for writing might look, I suggested that his mother purchase a HUE HD Pro camera, as it would enable me to clearly monitor what he writes and make our lessons very interactive.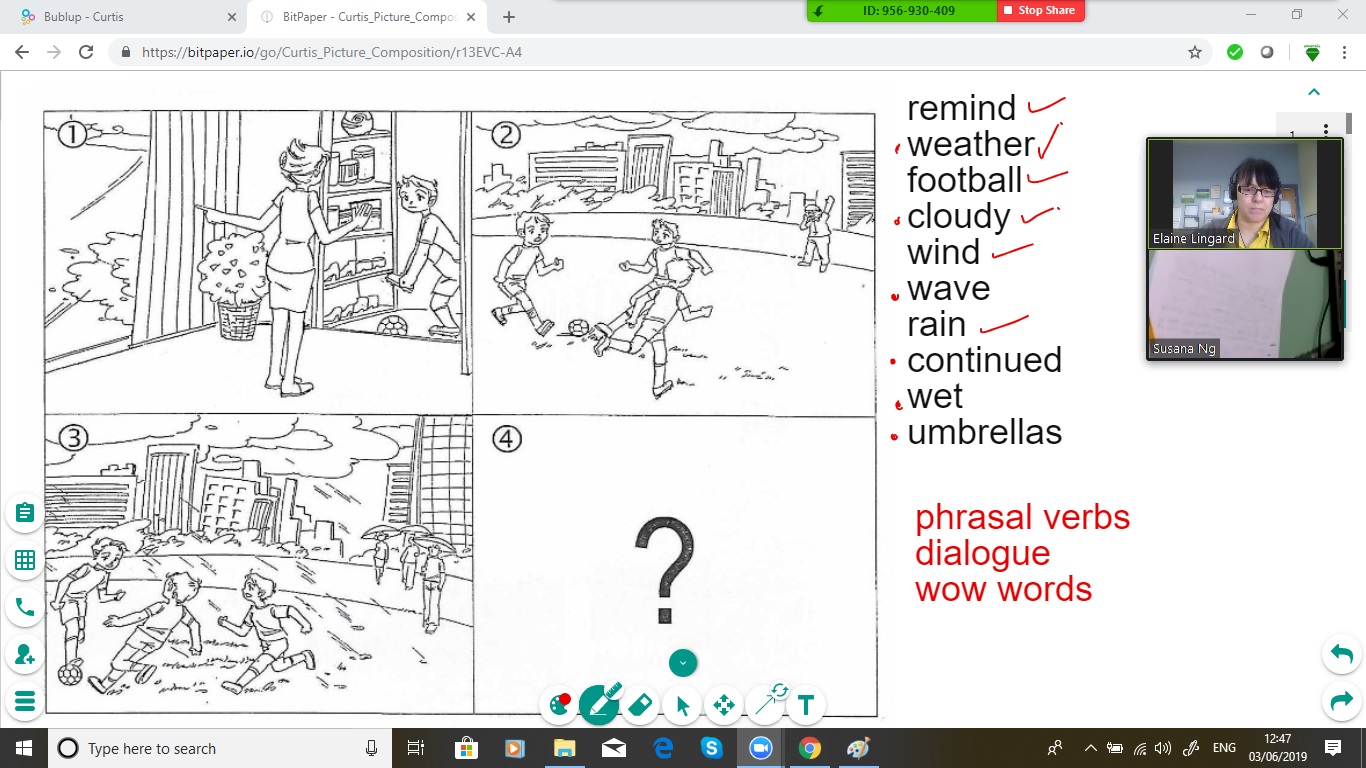 Curtis sets up his camera to show me what he is writing in real time. This works well for us, as he needs to physically write in our sessions, mirroring the experience he has at school. He can also see what I have on my screen, so he can use the writing prompts and vocabulary lists at a glance. This type of instruction enriches his repertoire. I can monitor what he writes as he is writing it, thanks to the HUE HD Pro camera.
I can instantly switch to full size images on my screen to see each section of his work in detail, helping him correct punctuation or spellings as he works through his tasks.
We can select images and brainstorm before writing, like he did with this descriptive writing. Using his HUE HD Pro camera, I can see each paragraph as he produces it, keeping him on task and motivated.
As you can see, these versatile little HUE HD Pro cameras are so easy to operate that a 7 year old boy can use it. I love the fact that they have changed the way I can work with my students, adding yet another dimension to the services I can offer.
If you would like to know more about how I work, please visit the Emerald Education Centre website.
---