Happy Halloween 2023!
Halloween is here again, and we are so excited we could scream! Spooky season is one of our favorite holidays and over the years we have been building a fa-boo-lous library of animation resources, videos and activity ideas guaranteed to get you into the festive spirit! 👻
Free animation resources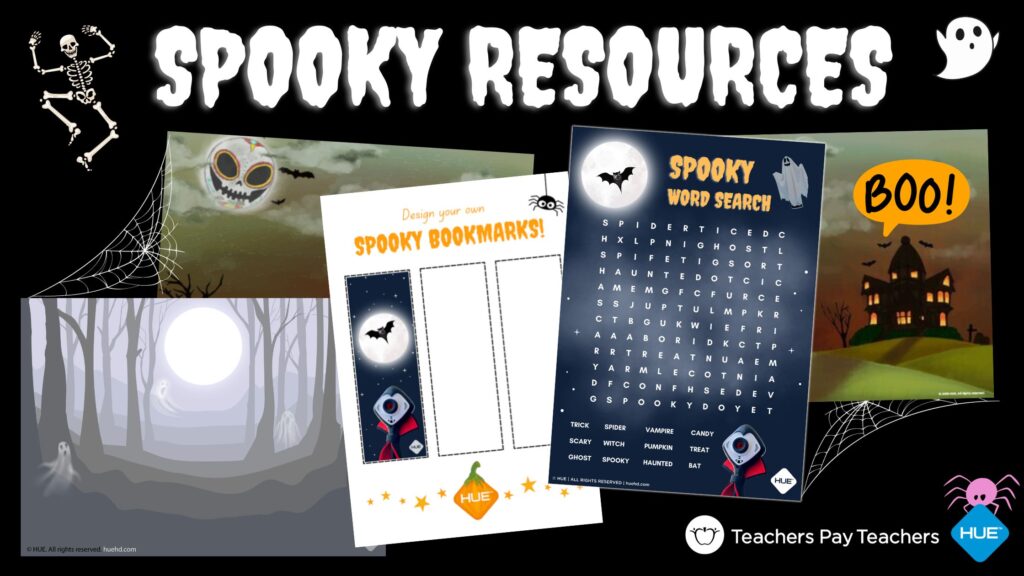 If you need a little inspiration, we have a spook-tacular selection of animation backgrounds, storyboards and coloring activity sheets which are all available for free from HUE's Teachers Pay Teachers store. Trick or treat yo' self!
Create a Halloween themed animated movie
Halloween conjures up images of candy, ghosts, witches, bats, graveyards, haunted houses, black cats and much, much more. Everything is suddenly decorated in bright orange, green, purple and black, and your friends are turning regular pumpkins into works of art.
Creating an animation set with a Halloween theme is easier than it sounds. You can print out spooky pictures to use as backdrops and decorate a set with Halloween candy.
With a little imagination, stretched cotton wool can turn into creepy cobwebs and leftover shampoo can be slime. If you usually animate mini figures or dolls, you can dress them up for Halloween by making simple witch hats and brooms out of crafting materials.
Scary sound effects
To create a ghoulishly good animation, try enhancing your story with sound effects which match the theme. HUE Animation Studio owners might already be familiar with The Nightmare Before Breakfast, one of the sample videos featured in our book.
No words were used during the animation; it's a complete story yet if you watch it again with the sound muted you can see that the sound effects play a very important part. Small details like the pumpkins in the background and the wobbling of the terrified egg contribute to the feeling of tension.
If you do any animating with HUE Animation Studio this year, we mentioned a site with spooky sound effects in a previous post which you may find useful. Remember to send us a link to any animations you make!
(If you'd like to know more about this clip, you can find a step-by-step guide to recreating it in The HUE Book of Animation.)
Create a 'fan film' of your favorite spooky movie or book
Who doesn't like a scary movie at this spine-tingling time of year? Whether you are Crazy for Coraline, a Frankenweenie fanatic or Room on the Broom devotee, making animated 'fan films' of your favorite movies and books is a delightful (and frightful) way to celebrate the season.
Capture a Halloween time-lapse video
Time-lapse photography can be used for all sorts of scary projects to commemorate All Hallows' Eve. You could capture a time-lapse of the moon in the night sky, make a video of a pumpkin rotting away in seconds or record yourself carving a pumpkin.
Make a spooky shadow puppet theater
All you need for this terrifying theater project is an empty cereal box, a few basic craft materials and HUE's devilishly simple, step-by-step guide. If you have a HUE camera handy, why not film your petrifying puppet performance to share with friends and family?
From everyone on the HUE team, we hope you have a fang-tastic Halloween!
---
Find out more, subscribe to our blog, download resources, contact us or follow us on social media.