[EN] Review: HUE Animation workshops drive innovative learning in rural Yorkshire primary school
Tim Whitehead is the headteacher at Kildwick CE VC Primary School in North Yorkshire and is in the process of re organising the ICT hardware and software at the school. He is an advocate of using ICT integrally within the classroom and when InspirEd's Dawn Feather, a parent at the school, introduced him to HUE Animation Studio, he immediately thought this was a great way to move learning forward. Dawn visited the school to lead some animation workshops using the software.

These are the views of the staff after using the HUE HD camera with HUE Animation software:
I am impressed by the ability of the camera to project images such as illustrations from textbooks, pages for whole class reading and children's work.
It is great way to feedback progress to groups of children during the lesson and demonstrate a WAGOLL ('What A Good One Looks Like') and the start of a lesson.
It is effortlessly easy and takes seconds, meaning staff will be more inclined to incorporate it into their daily teaching
HUE Animation Studio comes with the HUE HD camera, HUE Animation software and a 60-page instruction book full of tips and techniques.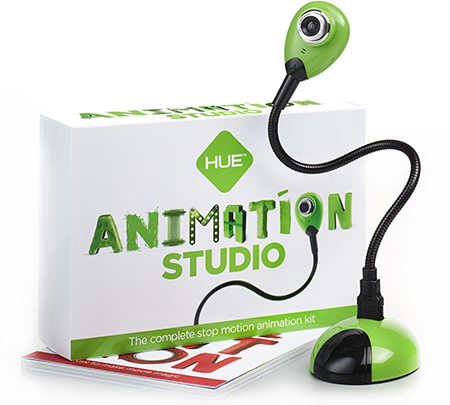 The children loved looking at the sample videos and this really gave them a clear idea and understanding of not only what can be achieved but also the versatility of the product.
Dawn from InspirEd gave the children little instruction (deliberately) and let the children 'plug and play'. The children used the flexible camera, which can be used in its base or plugged in directly to the laptop, to produce simple plasticine animation scenes.
The intuitive nature of the software allowed the children to easily take photos, move the object and repeat. Other features that the children explored were adding text, preloaded backgrounds and music.
As a Headteacher, I am planning on training my digital leaders to teach / demonstrate the functions of this fantastic software to the rest of the school. It can be used in so many cross-curricular ways that will benefit the children's learning no end. Thank you, HUE.
What the children said:
When we opened the box, it came with all the parts and was easy to assemble.
I thought it would be more complicated than what it was.
You literally just plugged it in and filmed your stop motion.
It was easy to edit any mistakes out.
Honestly, I think everyone should have a go with it.
Just let your imagination run free.
Please do take some time to watch the video review from Tim Whitehead and the children of Kildwick CE VC Primary School.
Our thanks extend to Dawn Feather from InspirEd Workshops who worked with Kildwick School in leading the animation workshops and creating this video.