10 World Book Day Activities with HUE and VIP Reading
This beautiful illustration was drawn by the talented Rachel Sanson (represented by VIP Reading).
We have teamed up with the wonderful folks at VIP Reading to bring you some very exciting activities, freebies and unHUEsual ideas for World Book Day.
Set up by teachers Rob and Krystal McCann, VIP Reading is a UK based, book box subscription company whose mission is to provide teachers and families with expert advice, carefully selected books and beautiful book boxes to help inspire a lifelong love of reading. 
The team at VIP Reading firmly believe that there's no such thing as a child who doesn't enjoy reading, just a child who hasn't found the right book yet.
For the next 12 months HUE are sponsoring VIP Reading's resident illustrator, Rachel Sanson, who will be creating beautiful resources and illustrations that will feature in upcoming VIP Book Boxes.
Stay tuned and follow @HUEcameras and @VIPreading on social media for updates, news, fun and giveaways.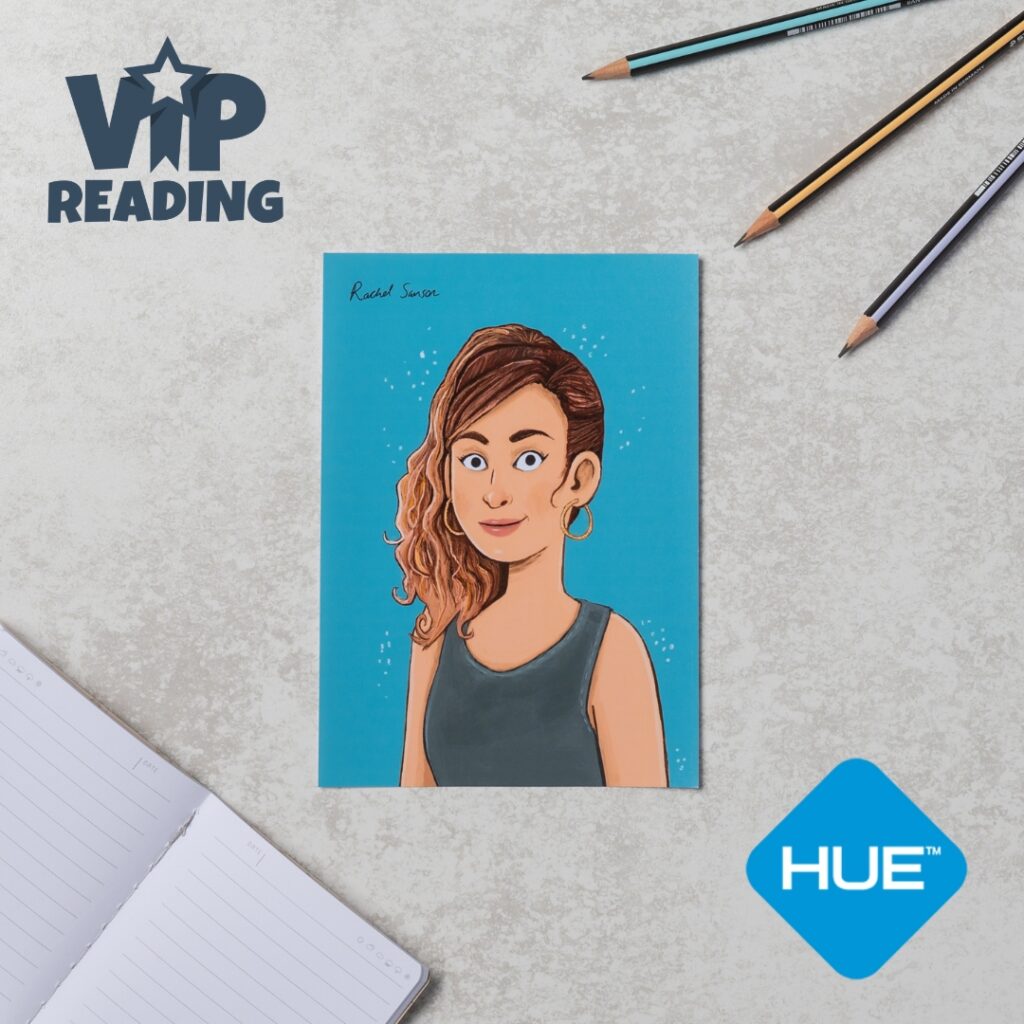 10 World Book Day activity ideas with HUE & VIP Reading
1. Explore digital storytelling with stop motion animation
This project has so many different possibilities, and it doesn't have to be difficult with an all-in-one stop motion animation kit such as our award-winning HUE Animation Studio. 
You could animate a whole story, a memorable scene, or create a book trailer showing some key plot points from the story.
Whatever you decide to do, make sure you check out our digital storytelling guide to help you plan your movie. Don't forget to download some animation freebies including storyboard templates and printable backgrounds from HUE's Teachers Pay Teachers store.
If you are hungry for animation inspiration, check out this animated retelling of Eric Carle's The Very Hungry Caterpillar, made by a family during lockdown. This really illustrates how much you can achieve with some simple props, toys, clay, and a sheet of fabric for a background.
2. VIP freebies!
Being a team of educators experienced in the teaching of reading, VIP "love supporting our fellow teachers with book recommendations, book box subscriptions and unbeatable discounts on school book orders".
Their one-of-a-kind book boxes are delivered every other month, lovingly designed by a team of educators based on a thought-provoking theme with hand-picked and high-quality newly released books and educational resources.
Download exclusive VIP Reading activity packs created by amazing illustrators: Chris White, Gareth Conway, Keith Robinson, Nadine Kaadan, and Rikin Parekh.
The free downloadable resources include coloring sheets, bookmarks, how-to-draw guides and so much more. Make sure you join the VIP Reading Club to access premium resources by becoming a member.
3. Learn how to draw Love Monster with author Rachel Bright
If you love Love Monster as much as we do then you will adore this super cute draw-along activity with author Rachel Bright. Rachel recorded the draw-along video with the help of her "SUPER user friendly" HUE HD Pro camera. Check out the how to draw Love Monster video on Rachel's Instagram. 
4. Invent your own Marvelous Medicine
This fun activity inspired by Roald Dahl's classic story George's Marvellous Medicine provides a delightful opportunity to spark children's imagination while practicing writing skills. Have your kids write down the ingredients they would put in their own Marvelous Medicine and explain what magical powers their potion would have. Download our free Marvelous Medicine worksheet on HUE's TPT store today.
5. Stream or record a read-along
If a classroom or family read-along is on your list of activities for World Book Day this year, a HUE camera can help you make this a moment to remember.
Reading is normally a personal or one-to-one activity but when children are introduced to a new book in school, it is magical to be able to do so with the whole class at the same time.
Teachers are able to read aloud to their students who can follow along and see the illustrations with the text as they were intended.
A HUE camera enables the teacher to record the storytelling which can be replayed, sent to absent pupils as a video or used by a substitute teacher who is covering the class.
At home, the moment can be captured to save as a digital forever memory or send to friends, aunties, uncles and grandparents.
6. Recipes for success
Food frequently features in books, and cooking and eating together is a delectable way to celebrate World Book Day.
From honey and marmalade sandwiches to gingerbread houses and "lashings of ginger beer", there's plenty of literary-inspired morsels to bring a smile to your face and taste buds.
In this adorable video, YouTuber Rosanna Pansino bakes 'Eat Me' cookies from Alice's Adventures in Wonderland. These super cute cookies would surely take pride of place on the table at your World Book Day Mad Hatter's Tea Party. 
However, if you are trying to cut back on sugar, you could always make cabbage soup from Charlie and the Chocolate Factory, or The Cat in the Hat's green eggs and ham instead. 
Don't forget to use your HUE camera to film or stream your World Book Day recipe so you can share the video with your students in class or upload to YouTube for repeat viewing.
7. Host a virtual book club with your buddies
There are so many benefits to joining a book club. From the social aspect to stepping outside your comfort zone and reading books you wouldn't normally choose, or simply encouraging yourself to read more often.
But, if you don't have a book club near where you live, why not start your own online with the help of your HUE camera?
HUE cameras are Plug & Play devices that work seamlessly with video conferencing platforms such as Zoom, Google Meet and Microsoft Teams. The cameras have flexible necks that can be rotated 360° and positioned in any angle making them perfect for displaying the pages of a book.
Find out everything you need to know about using HUE cameras for video conferencing in our free, informative guides on the HUE blog.
8. Riddle me this!
Riddles famously feature in many works of fiction. From Gollum's fiendishly tricky teasers in The Hobbit to the hilarious headscratchers in the Harry Potter books, it seems like authors of all genres love to keep their readers guessing. 
For the little learners in your life, why not create an emoji quiz or 'Which book am I?' riddles based on events and characters from their favorite books?
Check out the riddles that Chase Bridge Primary School, in Richmond UK, prepared for World Book Day on their school website for some inspiration.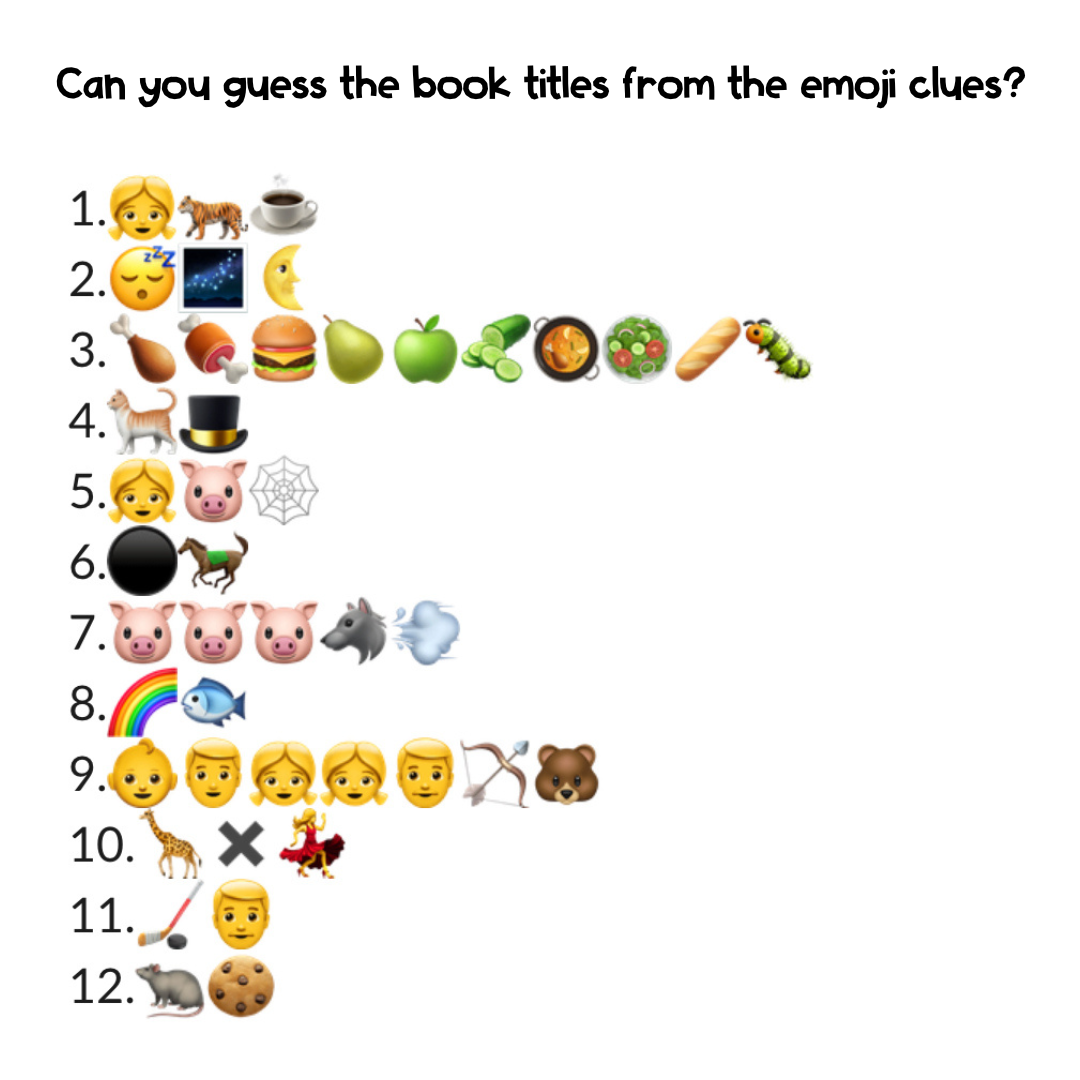 How many book titles did you guess? Let us know in the comments section!
9. Create graphic novels
Challenge your children or students to retell a classic story in comic book form with the help of our Comic Book Starter Kit. By drawing key events from the plot of a book children will practice story sequencing alongside art and writing skills all while making a cool comic to share with their friends.
10. Dress up your HUE camera
Dressing up as your favorite literary figures or characters is one of the most well-known and fun activities for World Book Day and HUE cameras love getting in on the costume action too!
Make sure your HUE camera looks their World Book Day best this year with our free 'cut-outfits' from HUE's Official TPT Store. 
If you use the cut-outfits, or make your own #HUEcamera costume, don't forget to tag @HUEcameras on social media for a chance to win an exclusive HUE coffee cup. 
We hope you enjoyed this World Book Day article and would love to hear about your creative use of any of the ideas or freebies mentioned here.
Let us know in the comments section or contact us by email or on social media @HUEcameras. 
Wishing you a very happy World Book from HUE and VIP Reading!
---
Find out more, subscribe to our blog, download resources, contact us or follow us on social media.
Posted on

February 17, 2023

in Events